New Adjustable Lache System
This system is designed so that the counselor/coach can easily remove the bars in order to attach accessories such as rings, UFO's, ropes, cannon balls, and most of what you can find in our store. The bars can be moved along the length of the notched beams they can also be moved up in height from tier 1-3. The highest tier is 9 feet from the ground. the lowest tier is 7 feet from the ground.
"For the past eight years, one of our most popular activities at camp has been our Ninja course conceived, designed and built by Stage4 Designs.  We were their first camp build and it was an immediate hit.  I have watched over the years as the company has grown and perfected their durable, easy to maintain outdoor courses.  It is one of the most affordable programs we have added to camp and the campers still choose to make the activity one of their top choices after all these years. Most importantly, the annual maintenance offered by the company and their collaboration with training staff each summer and course expansion opportunities are professional, cost effective and keep our course and our campers safe.  I don't know anyone out there doing it better!"
Mark Lipof, co-owner/Director Camp Micah
Multi-Phase Installs
At Stage 4 Designs we work with the same camps year after year adding onto the courses phase by phase. We find creative ways to incorporate new structures with the previous years build out.
"Stage 4 Designs installed a fantastic Ninja Warrior course at Taconic in 2021.  Nick and Nate worked closely with us to design a course that was right for Taconic, and the installation process was easy and professional.  Nate comes to our camp each summer to train our staff and service the course.  The staff always gets a lot out of it and the resulting Ninja program at our camp has been a huge success.  We continue to work with Nick, Nate and the team on ongoing builds and course repairs, and it continues to be a great relationship.  I highly recommend working with Stage 4 Designs!"
Jason Kleinman, Owner/Director Camp Taconic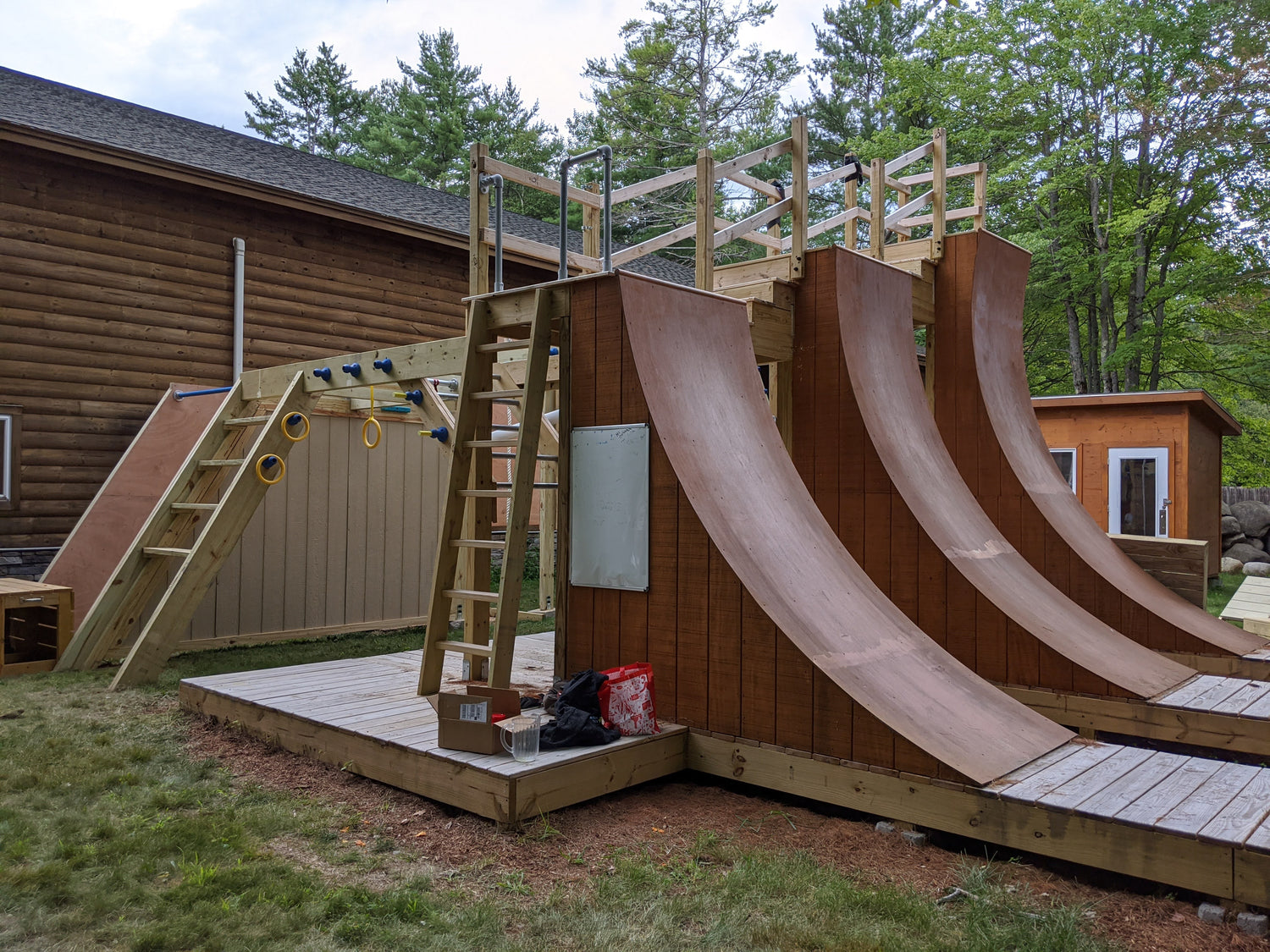 Care and Maintenance
At Stage 4 Designs we design and build everything to last for years but the elements will still take its toll. The key to the courses longevity is how its maintained and cared for. We offer a course care and maintenance plan for every camp course. Our team will visit the courses year after year to look for damage, wear and tear and safety issues.
"Camp Matoaka couldn't be happier with Stage 4 Designs. The coaches are knowledgeable and supportive, and the courses and elements they build are top-notch. Our campers love the Ninja Warrior Course. They have seen huge improvement in their strength and endurance with this new activity.I highly recommend Stage 4 Designs to any camp owner looking to add a new activity to their camp, and to help their campers improve their fitness and reach their goals. Adding a Ninja Warrior Course to our program provided another path for our campers to be challenged to push themselves and see results. Don't wait - contact Stage 4 Designs and see the difference it can make at your camp!"
Jason Silberman Owner and Director Camp Matoaka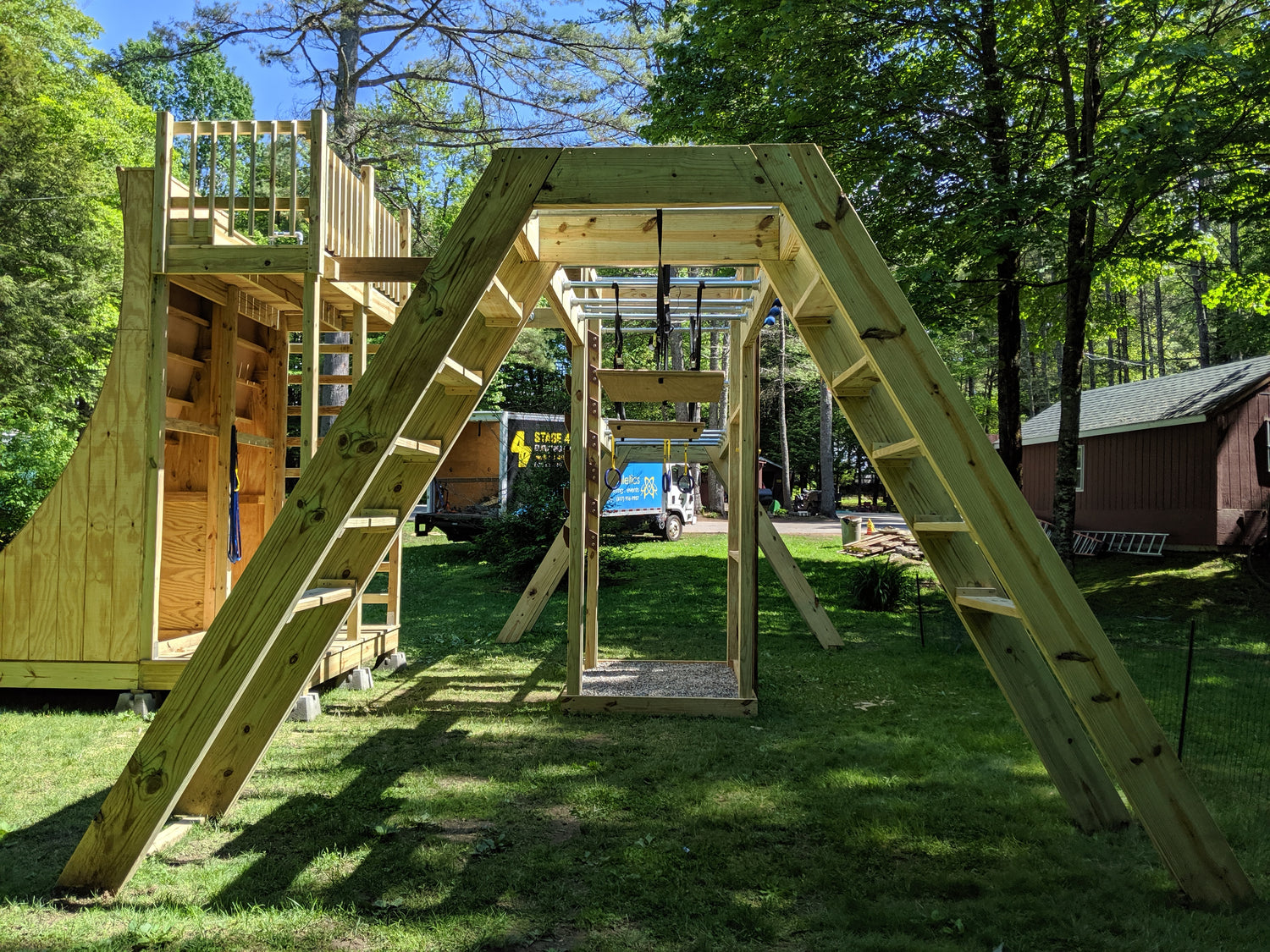 Staff Training
Stage 4 Designs is partnered with obstacle training facility Action Athletics in Wellesley and Norwood MA. The staff at both locations are top tier coaches and high level athletes. Every summer one or two coaches will train the camp staff how to use the course safely and provide them with programming insights.
Shoot us an email if interested.